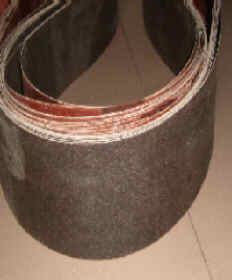 Silica Carbide Belts
SiC belts for glass linishing machines are a constant financial burden on studios who use them.

Additional Information:

These belts, made from quality cloth are around half the price you are paying now. What's the catch, there isn't one. With the exception that you won't get them off the shelf or in 3 days. Mostly orders take about three weeks, but they are so cheap you will be able to keep a good supply in stock. Also available cork belts at SiC prices. Phone or email for a quote.