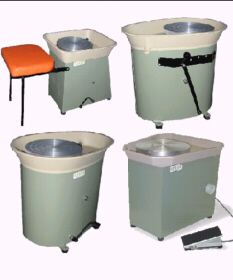 Venco Pottery Equipment
Australian made Venco Pottery Equipment is world class in it's field. Manufactured with the serious potter in mind, versatile enough for potters at every level.

Additional Information:

Venco manufacture four different models of pottery wheels. There is a model to suit practitioners at every skill level. The most popular models the No 3 and the No 5 feature 3/4 horse motors, your choice of 280 or 330 mm wheel head and can be optioned with bat pins and either a stand-up kit or a padded stool.

The No 6 model is a compact unit for the smaller studio and the top of the line No 7 is an electronically controlled unit for the serious potter.

Venco's clay extruder is supplied with four profile plates and with the option of a kit containing a further eight gives you the flexibility to extrude 12 different clay profiles.

From the entry level 75 mm standard pug mill right up to the 250 mm 5.5 Kw industrial model, Venco makes a pug for every application. With almost 30 years experience in the design and manufacture of pug mills, Venco produces a machine for every pottery.

Both standard and de-airing models with a full range of expansion kits and accessories are available.

Naturally we can provide service and spares for your Venco pug mill.